Author:  Paul Cowan, ICT Relationship Manager
Kia Ora,
Testing one two three.  to all our University of Waikato staff, students, and whanau, and welcome to the inaugural article of our new technology focused blog Tech Talk.

Your friends & colleagues at ITS are excited to introduce what we hope will be a valuable resource to help keep you informed of upcoming changes to the technology you use every day.  It won't have escaped your notice that the digital environment we all work with tends to change rapidly. Whether it's a new calendar environment, Moodle upgrade, phishing email, or operating system, it's easy to feel overwhelmed by the speed with which a previously familiar tool or online experience can suddenly change.  Technology obsolescence that used to take years for many apps now seems almost instant, new devices are constantly becoming available, and why do we still need to restart our routers all the time?  (I'm looking at you Spark).
To help keep you up to date with pertinent changes to your digital life at the University of Waikato we've launched this blog, which we'll use to give our individual subject matter experts a place to let you know (in plain English about upcoming changes we feel you should know about.  To that end, let's kick things off with some exciting new changes coming soon to the GSuite environment.
What is GSuite?
The rather clunky moniker "GSuite" is Google's catchall term for it's package of cloud-based services that our staff and students use for email (GMail), calendar (Google Calendar), storage (Google Drive) and collaboration (Google Docs, Sheets and Slides).  There are many more tools and apps wrapped up in the GSuite bundle, but those four are the most popular and frequently used. All of these terms tend to get used interchangeably quite a lot, and you may find someone talking about Google Drive when you suspect they really mean Google Docs.  GSuite is a wonderful cloud based resource, but like many Google products, it can become quite confusing to determine which part of it you're interacting with at any given time. Because it's a cloud based web resource that Google updates often, it's not unusual to login and find everything is rather different!

There are some significant changes to the Google Sheets component of the GSuite environment that have just been launched, and we'd like to introduce them today.
Macros!
Starting today, you can record a macro in Google Sheets. Let's say you need to format new data imports or build the same chart across multiple sheets of quarterly data. Repeating the same steps manually can take hours, but the Sheets macro recorder lets you record those actions and play them back on command without having to write any code.

Here's how it works: when you record a macro, Sheets converts the macro actions into an Apps Script automatically. If you want to update your macro, you can simply edit the script directly instead of having to re-record the macro from scratch. You can also write your own Apps Script functions and import them as new macros.
The best part about Sheets macros is that they're built for use in cloud-based files, which means that teams can run macros at the same time that others are working in the sheet without interrupting them. For example, a team of students working together on a spreadsheet can run macros while reviewing the same spreadsheet. It also means that staff or students won't be forced to download sensitive files to use your macros. Since your Sheets files are in the cloud, you can keep tighter controls over who can view and re-share your data.
You can learn more, and see a demo of this functionality at Google's own blog.
Add checkboxes to a list in Google Sheets
You can turn a list of items into a checklist with the new checkbox feature. See the Help Center to learn how to add and use checkboxes.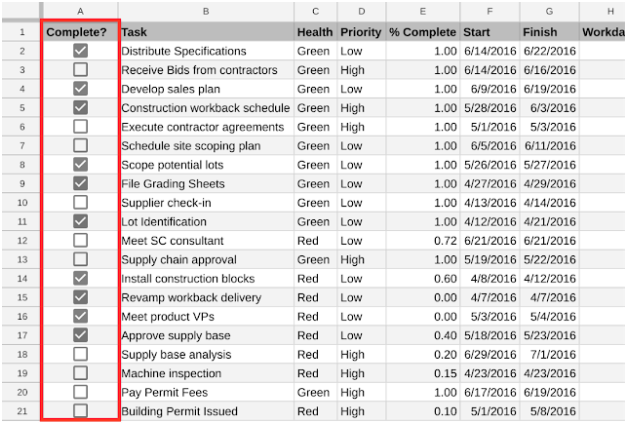 Improved date-based pivot tables
Google is making it easier to work with dates in pivot tables by adding an option to create groupings by time and date, including hour, day, month, quarter, year, and more. See the Help Center to learn how to add and use pivot tables.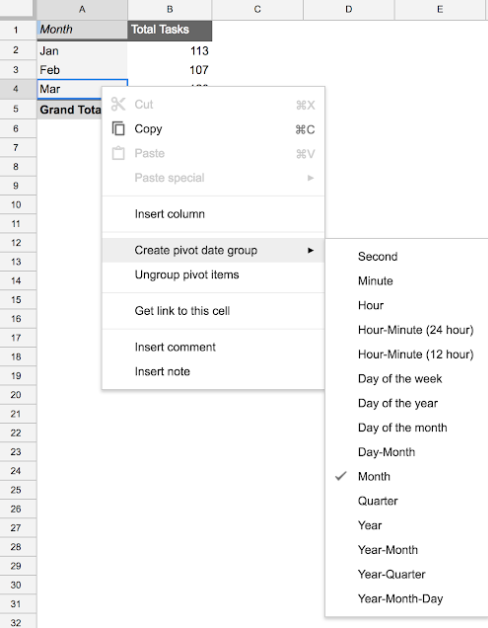 Better spreadsheet printing
There are now new features to make it easier to print spreadsheets. Specifically, you can specify custom paper sizes and set custom page breaks. This makes it easier to get the right content from a spreadsheet on a printed page. See the Help Center for more about how to print from Google Sheets.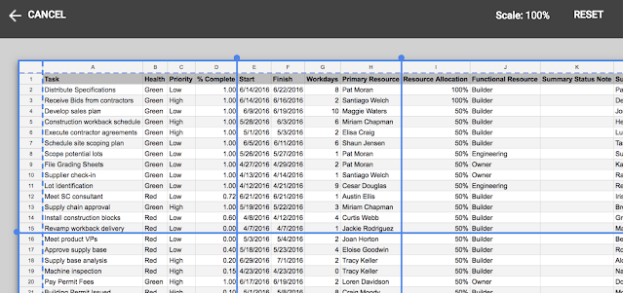 Nga Mihi,
Paul
(paul.cowan@waikato.ac.nz)